KEVIN AYERS
let the good time have you

Oh la la. Kevin Ayers and soon Johnny Cash in Letslivappy!. If I'd been told that in 1989 when I started the Vivonzeureux! radio show, on which I played mostly De La Soul, The Pixies or They Might Be Giants...
According to Howe Gelb, 1972 is one of the best years in rock. He even christened thus a short rock instrumental on "Chore of enchantment", and I think he quotes particularly the release of "Exile on Main Street" by the Stones as one of the reasons for this good vintage year.
Yes, but I rather think it's a matter of generation. Up until recently, it would have been nigh on impossible for me to quote just one good album released in 72 among those I really love. That Stones album hasn't got much effect on me. There's probably a good Neil Young album released around that time, but don't ask me which one... Ah yes, there's probably a solo Lou Reed, or a Bowie, but it's really not the best of what they've done.
But anyway, as I said, Iwas not aged 15-16 in 72, nor 12 like Howe, who was probably precocious, and, as a child of post-punk new wave, the "important" albums released between 70and 75, according to myself, could be counted for a very long time on the fingers on one hand (solo Enos, Kraftwerk, Leonard Cohen,...), but I completely agree that's i's mostly a question of ignorance on my part. And at the time of the new wave, I had no interest whatsoever for hippies, among which I tended to include Kevin Ayers, even though, with some of his musical friendships, from Soft Machine to Hatfield and the North, from Robert Wyatt to Mike Oldfield, he has often had a hand in more avant-garde and experimental music.
I had already listened to the first albums by Kevin Ayers : the first Soft Machine album (a band he had already left when the record was released in december 1968) and his first two solo albums. But, from the magma agglomerated songs going in all directions, I had only noticed two of his most well-known songs, "Lady Rachel" (the essence of all Paul Roland's music concentrated in one song, which he has covered by the way) and "May I ?", which he has also recorded in French ("Puis-je ?").
That's how I stood with Kevin Ayers when my pal Philippe (who was well over 16 in 1972...) lent me "Whatevershebringswesing", his third album, released in 1972 of course, advising me to pay great attention to "Song from the bottom of a well". Which I did, before taking an interest first in the album as a whole, and then, my curiosity being aroused, and then in Ayers' diverses activities during the year 1972.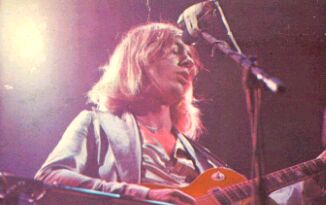 "Whatevershebringswesing", beside this enigmatic title, boasts a cover of the most bizarre kind : a henhouse with a typical landscape in the back, with a tilted basket full of eggs at the forefront, with babies coming out of the broken eggs, and a kid who pisses against the basket ! On the back cover, the kids, at various ages, are on the planks of the henhouse, and it is written : "no eggsplanation". So we won't look for one... Inside the gatefold sleeve, you find the credits and a big photograph of a couple bathing in natural surroundings (who may well be Ayers and his then girlfriend, from what I read...). You can't make it look more Woodstock in spirit !
One of the other bizarre things with this record is the running order of the songs. It starts with "There is loving/Among us/There is loving", and why not, since this triptych in which the hand of arranger/orchestrator David Bedford is strongly felt, is a good link with the first two albums and the first Soft Machine album, in which tracks strung together and suites dominated halves to three-quarters of sides, so much so that you had to go fishing for pop jewels in the middle of instrumentals and more or less experimental noodlings. With "There is loving", there's not much experimentation, but an orchestral arrangement which might bring memories of Kevin Ayers' label mates Pink Floyd.
The seven other songs are "isolated" tracks, and it is rather strange that the next two songs are maybe the weakest of the record, "Margaret", a rather anonymous ballad, and "Oh my", a cabareggae sounding song, in a furrow often ploughed by Ayers, but without much to go for it in this particular case.
"Song from the bottom of a well" comes on like a ufo in this record, or in Kevin Ayers' entire discography for that matter. A sonic loop switching from left to right for an intro, a voice which sounds like it's coming from much deeper than the bottom of a well,a threatening and strident electric guitar (held by the young Mike Oldfield), tapes played backwards, an abrupt ending... To make it short, all the ingredients of a bad trip are here for a track closer to the then developing heavy rock than the Canterbury sound Ayers is usually associated to, a little gothic jewel whose sound has not dated one bit : it is surprising that no batcave-type band has ever thought of covering it...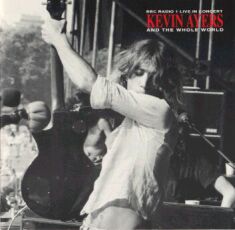 The contrast is even more striking once you've changed sides. You find the other peak of the album, the one it's named after, a masterpiece I'll tkae great care not to try to describe. Let's just say that : Kevin Ayers has a reputation for having preferred the sun to the English weather (actually, he spent his youth far from England, in one of the colonies of the Bristih Empire). He spent a lot of time in the south of France, and soon settled more or less permanently on one of the balearic islands, in Minorque. Well, "Whatevershebringswesing" is the ballad of the good time he must have had, one summer evening, with the sun setting (the title of this feature comes from the chorus : "Let's drink some wine, and have a good time, but if you really want to come through, let the good time have you"). Everything is perfect in this version : the bass on the intro, the vocal chorus, the light guitar, the discreet organ, the lyrics, the whole being sublimed by Robert Wyatt's backing vocals, as it will be two years later for Eno's "Put a straw under baby".
With "Stranger in blue suede shoes", which was released as a single before the album, Ayers seems to draw from a lot of rock cliches (the title, the riff a la "Sweet Jane" and the vocals which seem to send up Lou Reed) and distance himself from hippie ideals (the lyrics, in which a simple joint transforms an obtuse waiter into a rule-breaking hippie who takes the road !).
There's also a lot of distanciation with "Champagne cowboy blues", which again starts a little cabaret style, then comes a guitar solo which you'd swear is straight out of a Brian Eno solo album (but they were not recorded yet !), then comes what was not called a sample yet, but sounds like a disruptive bavarian beer fest !
"Lullaby", as the title says, is an instrumental lullaby, probably orchestrated by David Bedford, dominated by Didier Malherbe's flute (the french member of Gong), which is a quiet album closer.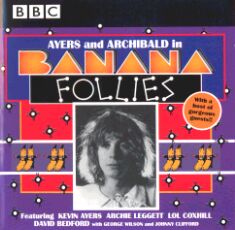 So, Kevin Ayers has a reputation of a hippie good-timer, who rapidly fled some aspects of show-business (he left Soft Machine after a long US tour supporting Jimi Hendrix...), but the least one can say is that, at the time of "Whatevershebringswesing", he was of the most active kind, and what's interesting for us is that, since that time, several previously unreleased recordings have been made available on CD :
summer 71 : The Whole World split, "Stranger in blue suede shoes" is released as a single
september 71 : recording of the "Whatevershebringswesing" album
november 71 : recording session (including "Jolie Madame", released on "Odd ditties" in 76)
end of 71 : Ayers tours with Gong in France and in England
january 72 : "Whatevershebringswesing" is released
6 january 72 : The Whole World reforms and plays a concert for the BBC with a 14 piece orchestra, but things stop there since money is lacking to tour this ensemble (available on "BBC live in concert" and "Too old to die young")
february 72 : recording session (including a new version "Lady Rachel", released on "Odd ditties" in 76)
may 72 : recording session (including "Connie on a rubber band", a new version of "Clarence in wonderland" recorded with reggae band Greyhound, released o the B side of the single "Oh! wot a dream")
spring 72 : Ayers and Archie Legget have started touring as a duo (Ayers & Archibald). They record an excellent session for the BBC's Bob Harris Show on 17 may 72 (5 songs, available on "Singing the bruise")
6-24 september 1972 : Ayers & Archibald are on the stage of the Hampstead Theatre Club for the "Banana Follies", with many guests in a music-hall atmosphere (the show on the 20th, recorded by the BBC, is available on CD)
september 72 : recording of the "Bananamour" album
10 november 1972 : release of "Oh! wot a dream" on single (a tribute to Syd Barrett)
mach 1973 : recording of the "Carribean moon" single
avril 73 : release of the "Carribean moon" single
mai 73 : release of the "Bananamour" album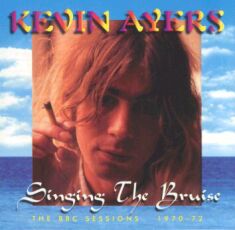 As Ayers said in 72, "I believe in change. I like to stop something that's become too comfortable and try something else, otherwise I feel too mechanical". The less you can say is that he's put his actions in accordance with his words ! So, don't hesitate any more, give your ears a good time with the records of this inventive hippie...
---

Kevin Ayers circa 1972: a few discographical references
Whatevershebringswesing album, Harvest or Beat goes on or MSI, 1972
Bananamour album, Harvest or Beat goes on or MSI, 1973)
Odd ditties album, Harvest, 1976 (compilation not available on CD)
Banana productions, the best of Kevin Ayers album, Harvest, 1989
The Kevin Ayers collection album, See for miles or MSI, 1990
BBC Radio 1 live in concert album, Windsong or MSI, 1992
Singing the bruise album, Strange fruit, 1996 (BBC sessions)
Banana follies album, Hux, 1998
Too old to die young album (BBC sessions)
More information :
http://www.ping.be/kevin-ayers (official site)
http://www.users.globalnet.co.uk/~marwak (Why are we sleeping fanzine)