---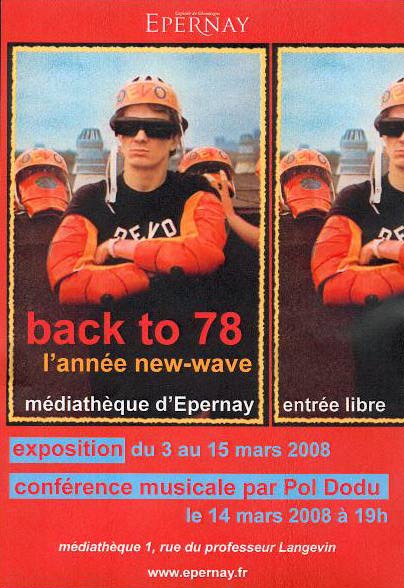 Janvier 1978 : les Sex Pistols se séparent. On peut dire que l'ère post-punk débute. Trente ans plus tard, la Médiathèque d'Epernay revient sur cette période musicale faste avec une exposition présentée du 3 au 15 mars et une conférence musicale, animée par votre serviteur Pol Dodu, le vendredi 14 mars à 19 h (entrée libre) sous la bannière "Back to 78 - l'année new wave".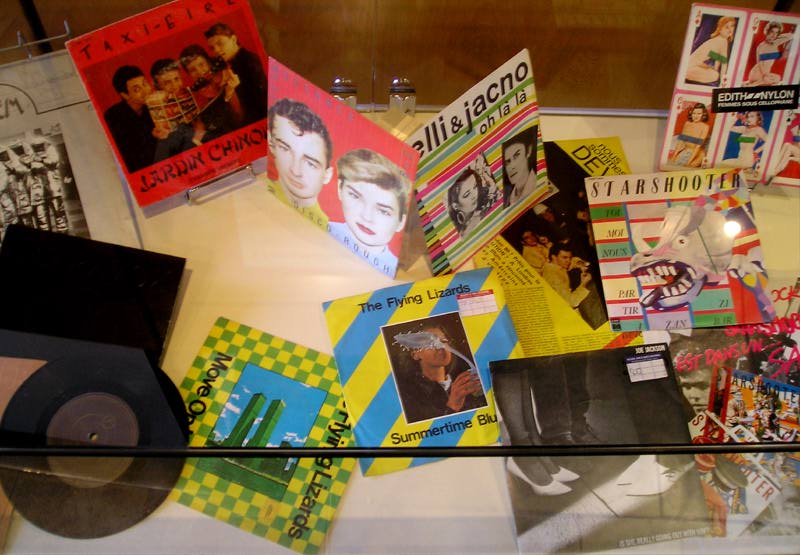 Back to 78, l'année new wave
Conférence musicale à la Médiathèque d'Epernay, 14 mars 2008
Introduction
Février 1978 : séparation des Sex Pistols, l'ère post-punk débute…
La new wave, pas de style musical défini.
De 1977 à 1978, du punk à la new wave
De Johnny Rotten à John Lydon, des Sex Pistols à Public Image Limited
Howard Devoto, des Buzzcocks à Magazine
Siouxsie & the Banshees, les derniers punks non signés sortent The scream
Elvis Costello, du noir et blanc à la couleur
Warsaw, avant de devenir Joy Division, rejette les synthétiseurs


Une génération profite de la porte ouverte par le punk, des grandes figures apparaissent
XTC : White music, Go 2 et Go +
The Cure : Killing an Arab
B-52's : Rock lobster
Pere Ubu : The modern dance et Dub housing
Wire : Chairs missing
Gang of Four : Damaged goods
Brian Eno, un parrain précurseur influent
Brian Eno : King's lead hat
Talking Heads : More songs about buildings and food
Q: Are we not men ? A: We are Devo !
Ultravox! : Systems of romance
Compilation No Wave : No New York
Mark Beer : Finx jinx
The Flying Lizards : Summertime blues

Le synthétique se démocratise
Kraftwerk, les hommes-machines
The Human League : Electronically yours
Cabaret Voltaire : Nag nag nag
Suicide, le duo électro art-rock
The Normal : T.V.O.D. / Warm leatherette
Throbbing Gristle : United
Telex : Twist à St Tropez
Les fondations du rock indépendant sont posées
Rough Trade, Mute, Factory, Fast, Small Wonder
The Fall : Bingo master's breakout
The Monochrome Set : He's frank
Television Personalities : Part-time punks
Metal Urbain : Paris Maquis
C'est de la pop ? Du rock ? De la new wave ?
The Police : Outlandos d'amour
Gruppo Sportivo : Back to 78
Ian Dury : New boots and panties
Et en France ?
La "nouvelle vague" de Starshooter est encore plus proche de celle de Richard Anthony que de la new wave.
En 1978, Métal Urbain, Marie & les Garçons, Rosa Yemen
En 1979, Lizzy Mercier Descloux, Dr. Mix & the Remix, Suicide Romeo
et aussi plus tard Edith Nylon, Taxi Girl, A trois dans les WC, Marquis de Sade, Kas Product

Pour en savoir plus
Pol Dodu : Les classiques de la new wave
Pol Dodu : Chroniques de disques new wave
Simon Reynolds : Rip It Up and Start Again : Post-Punk 1978-1984 (Allia, 2007)
Guillaume Gilles : L'esthétique new wave (Camion blanc, 2006) ***
Clinton Heylin : Babylon's burning : du punk au grunge (Au diable vauvert, 2007)
Frédéric Thébault : Génération Extrême - 1975-1982, du punk à la cold-wave (Camion blanc, 2005)
Jean Rouzaud et Mariel Primois : Jean Francois Bizot présente la New Wave (Panama/Actuel, 2007)
Yves Adrien : NovöVision : Les confessions d'un cobaye du siècle (1980, rééd. Denoël, 2002) ***
Greil Marcus : Lipsticks traces : une histoire secrète du vingtième-siècle (Allia, 1999) ***
George Gimarc : Punk Diary: The ultimate trainspotter's guide to underground rock, 1970-1982 (Backbeat, 2005, en anglais)
B. George & Martha DeFoe : International discography of the new wave, volume 1982/83 (One Ten Records/Omnibus, 1982)
French new wave

*** : disponible à la Médiathèque d'Epernay

Diffusion d'extraits des disques suivants
Sex Pistols : Never mind the bollocks here's the Sex Pistols
Public Image Ltd : First issue
The Buzzcocks : Boredom
Magazine : Real Life
Siouxsie & the Banshees : Hong Kong garden
Vic Godard & the Subway Sect : Ambition
Elvis Costello & the Attractions : This year's model
Warsaw : 1977-1978 - Warsaw
XTC : Go 2
The Cure : Killing an Arab
The B-52's : Rock lobster
X-Ray Spex : Germ free adolescents
Pere Ubu : The modern dance
Pere Ubu : Dub housing
Wire : Chairs missing
Gang of Four : Damaged goods
The Passage : New love songs
Brian Eno : Taking tiger mountain (By strategy)
Talking Heads : More songs about buildings and food
Ultravox ! : Systems of romance
Devo : Q: Are we not men ? A: We are Devo
Mars : No New York
Theoretical Girls : U.S. Millie
The Flying Lizards : The Flying Lizards
Mark Beer : Finx jinx
Kraftwerk : The man machine
The Human League : Being boiled
Cabaret Voltaire : Nag nag nag
Suicide : Suicide
Throbbing Gristle : United
The Normal : Warm leatherette/T.V.O.D.
Telex : Looking for St. Tropez
Snakefinger : Chewing hides the sound
Métal Urbain : Hystérie connective
The Fall : Bingo master's breakout !
Television Personalities : Where's Bill Grundy now ?
The Monochrome Set : The Monochrome Set
The Police : Outlandos d'amour
Ian Dury & the Blockheads : Hit me with your rhythm stick
Gruppo Sportivo : Back to 78
Lizzy Mercier Descloux : Press color
Starshooter : Betsy Party
Edith Nylon : Edith Nylon
Marie et les Garçons : Re-bop
Taxi Girl : Chercher Le garçon